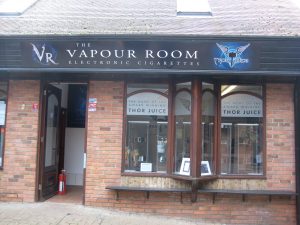 Address
3b St Mary's Walk
Hailsham
East Sussex
BN27 1AF
Tel
01323 325511
E-Mail
info@thevapourroomonline.co.uk
Website
http://thevapourroomonline.co.uk/
About
We are a family run business located in the East Sussex area. We run successful shops in Eastbourne, Worthing, Hastings, Newport (Isle of Wight) and Portsmouth, and a unit with an ISO grade cleanroom where Thor Juice is created.
We stock only the highest quality original products from official suppliers and we pride ourselves on our top quality UK pharmaceutical grade nicotine and our large range of e-juice flavours. We currently stock over 150 juices in store and online. Thor Juice has proven to be very popular with flavours that you won't find anywhere else!
We pride ourselves on our excellent customer service, with over 5 years experience in the e-cigarette & vaping industry there's not a lot we don't know. Our high quantity of knowledge gives our customers a clear and exact view of what best products to purchase and what best e-juice suits them.
Our company is based on excellent customer care and support and we are always on hand to answer any questions and support our customers in any way we can.
Our clients often comment on our friendly service which keeps us a large spectrum of regular customers. Maintaining top quality customer relations is the base to any successful business!
This shop sells a variety of items including: batteries, chargers, clearomisers, Thor Juice, other e-liquids, mods and rebuildables, wicks and coils, and apparel.