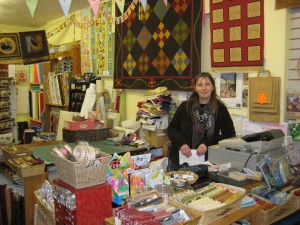 Address
10a St Mary's Walk
Hailsham
East Sussex
BN27 1AF
Tel
01323 442821
.
.
.
E-Mail
pumpkinpatchquilting@hotmail.co.uk
Website
http://pumpkinpatchquilting.co.uk/
About
A great place to get all your quilting, knitting and sewing supplies in Hailsham and the surrounding area. Described by many as an Aladdin's cave, we stock all sorts of goodies for those who love to sew (and some for those who don't!).
The business was started in 2002 and moved to St Mary's Walk in 2003. Over the years we have increased our stock and now carry an extensive range of haberdashery items, knitting yarns and approximately 1500 bolts of cotton fabric suitable for patchwork and quilting as well as dressmaking and other crafts.  We also have a large workroom with classes most days of the week.  Send us an e-mail if you would like to join our mailing list for future information.
We are stockists of Moda, Makower, Benartex, Clothworks and Red Rooster as well as several others.  We also stock Sirdar knitting yarns as well as a range of pure British yarns from Woolyknits.
Every month sees new ranges arriving in the shop and we update our Facebook page each week with new stock or information about what's going on.  Find the link on our website or search for The Pumpkin Patch Hailsham.
We look forward to seeing you soon.
Opening Hours
Monday to Friday:  9am to 5pm
Saturday:              9am to 4pm
Closed Sundays and Bank Holidays.